STROUD BOOK FESTIVAL: Flying the Flag for Educational Copyright
21 November 2018
The third Stroud Book Festival earlier this month staged events in the heart of the Cotswolds with authors both local and from further afield.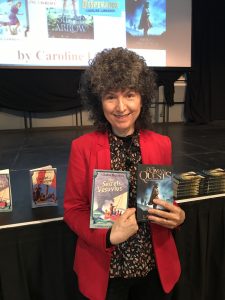 Mary Portas, Alan Johnson, Prue Leith, Tony Ross, Bernardine Evaristo, Ben Garrod, Patrick Gale, Daljit Nagra and Bel Mooney were among those who appeared during the five days of the Festival at which the total number of events increased by around 50% this year.
Thanks to sponsorship from ALCS, Stroud Book Festival was also able to present its first ever Schools Day. Hundreds of local primary school children attended a wonderfully diverse bill of events which included beekeeper and illustrator of the bestselling 'Horrible Science' books Tony de Saulles presenting his brand-new series 'Bee Boy'; wheelchair basketball star and Paralympian Ade Adepitan talking about his new book, Ade-Ventures: Battle of the Cyborg Cat; and Caroline Lawrence, author of the mega-selling 'The Roman Mysteries' introducing her brilliant new adventure series 'The Roman Quests', and revealing her top tips for writing stories.
All the children and their teachers were given information about ALCS copyright education materials, aimed at exploring the importance of copyright with pupils in Key Stage 2 and Key Stage 3: what it means, what it does, and how it benefits creators, readers and viewers.
---
Written by Caroline Sanderson, editor of ALCS News and Artistic Director of Stroud Book Festival.
Photograph of Caroline Lawrence
---
You can find our copyright education resources here.