THE BLACK WRITERS' GUILD
15 September 2020
More than 300 black published writers have joined the newly formed Black Writer's Guild (BWG), established to represent the interests of black authors in the UK. We speak to co-founding member Nels Abbey, to find out more.
On 15 June in the wake of global Black Lives Matters protests, the newly founded Black Writers' Guild (BWG), led by authors Afua Hirsch and Nels Abbey, and publisher Sharmaine Lovegrove, sent an open letter to UK publishers, urging sweeping reforms to make the overwhelmingly white industry more inclusive at all levels. "Publishers have taken advantage of this moment to amplify the marketing of titles by their black authors….but we are deeply concerned that British publishers are raising awareness of racial inequality without significantly addressing their own", it read.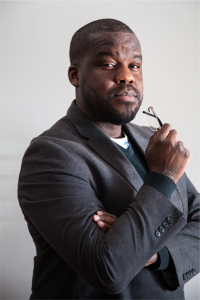 With this letter, the BWG hit the ground running. Says co-founding member Nels Abbey, the author of Think Like a White Man: Conquering the World… While Black: "there is no table that we are not going to turn over – we are going to be speaking to everyone in the publishing realm where we have identified practices that we feel are…poor practices in relation to black writers".
The BWG aims to be an outward-looking organisation focused on affecting real change as soon as possible.  "When we established the Guild, the first thing we were offered was money to write a report.  And we all looked at each other and immediately agreed this wasn't the way forward. We've already had thousands of reports, but none of them have led to the substantive, root and branch change that is needed", comments Nels.
Instead, the BWG is in the process of creating a racial quality framework which will give publishers the tools to collect data that will enable them to report on how they are performing where writers from different ethnic groups are concerned. "One thing we've found during our meetings with publishers is that while some of them have decent data collecting processes, others lack them entirely. We decided that it would be better if we levelled the playing field to achieve transparency across the board".
"We want to the BWG to be a critical friend to publishers on an ongoing basis – both in the sense of a friend who criticises, and a friend who is very necessary", Nels adds. The BWG plans to follow up its ongoing publisher meetings with conversations with retailers, the media, book festivals and more. "We're looking far and wide in our quest to rectify issues as soon as possible". Another vital driver of change he believes, centres on the value both economic and cultural, that is associated with black writers. "Our job is to be a lot more aggressive in creating the market case for black writing. Change happens when people start to see £ signs".
In addition, BWG is taking shape as an organisation through working groups tasked with different responsibilities. "We have a membership working group for example which is looking at our internal democracy and membership strategy", Nels explains. The BWG is also considering setting different interest groups within the organisation, such as a Children's Writers Group. Regular updates and meetings are planned to keep the BWG as democratic as possible.
For now, the criteria for membership remain very simple, emphasises Nels. "If you identify as a black writer, contact us and we'll make you a member. Whether you're an established writer or an emerging writer, and whichever genre you work in, we are here for you".
For more information, please email hello@blackwritersguild.com
---
Interview by Caroline Sanderson