ALCS AGM 2019 and Panel Discussion
23 October 2019
Our Annual General Meeting (AGM) will take place on 28 November 2019 at The Vermont Hotel, Castle Garth, Newcastle-upon-Tyne NE1 1RQ.
Every other year we hold the ALCS AGM outside London to help ensure we're hearing from members across the UK. In the past we've been to cities including Manchester, Birmingham and Bristol, and this year we're delighted to be travelling up to Newcastle-upon-Tyne.
ALCS AGM 2019
All members will have received correspondence from Civica Election Services (CES, formerly the Electoral Reform Services) on 28 October, inviting them to the ALCS AGM and asking them to cast their votes in the ALCS Board election and on AGM agenda items. Members unable to attend the AGM to vote in person are strongly encouraged to take advantage of the online voting system, outlined in the correspondence they received from CES.
If members have any queries about the process, they should contact CES directly at alcs.voting@cesvotes.com.
Members will be introduced to their newly elected Board members at the AGM on 28 November.
AGM timings
12:00 – Lunch and registration
12:30 – Panel discussion
13:45 – ALCS AGM followed by a drinks reception
16:30 – Finish
To RSVP for this event, please email agm@alcs.co.uk or call 020 7264 5740 with your ALCS reference to let us know if you'll be coming or not.
Panel discussion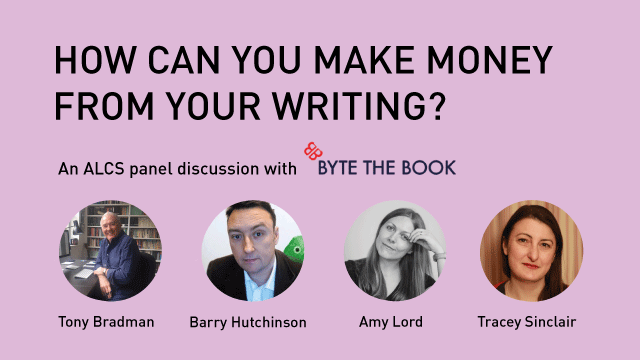 Before the main AGM, Tony Bradman, ALCS Chair, will be moderating a panel discussion: How can you make money from your writing? Amy Lord, writer, blogger and digital marketer; Barry Hutchinson, award-winning author of books, comics and animation; and Tracey Sinclair, freelance editor and writer, will be joining us to discuss ways in which writers can boost the income they earn from their work.
You can watch last year's AGM panel discussion, How can writers monetise their content in the Digital Age? here.