My Writing Living: Holly Brockwell
20 May 2019
Award-winning technology writer Holly Brockwell tells us how being a 'giant nerd' has helped her find her writing niche and earn a sustainable living in a fast-moving industry.
Before breaking into tech journalism, Holly Brockwell worked as an advertising copywriter for "seven miserable years". "I always wanted to be a journalist but my careers advisor at university told me that if I hadn't done loads of unpaid work experience and I wasn't the editor of the student newspaper then I wouldn't have a hope in hell of getting into it. So I went into advertising instead which paid well and was a decent way to get started in London. But I quickly got fed up because everything you write gets changed a million times by the time it comes out. So it didn't really feel like being a writer."
Then five years ago, a friend who was working at Shiny Shiny, a tech website aimed at women, needed someone to write reviews of phones. "My reaction was: you get paid to review phones?! I would quite happily have done it for nothing because I'm obsessed with gadgets. But because I had some writing samples, she started sending me two phones a week and I would review them in my spare time, recording videos in my room late at night."
Having defined opinions and not being afraid to be opinionated has also been key.
Brockwell's reviews went down so well that she was offered a full-time job as editor of the site. A career in tech journalism was born. The switch suited Brockwell – a self-confessed "giant nerd" – perfectly. "I've always been a nerd. When I was a kid, my mum and dad used to have a mail order business selling video games out of our garage." In 2015, she founded the website Gadgette in response to a technology media that remains disproportionately male. Covering gadgets, social media and trending stories relevant to women, the site specialises in delivering content that "ambitious, digital-savvy women want to read and share". Gadgette quickly grew to over 150,000 unique users a month, was shortlisted in the Good Web Guide awards and won a Commendation at the Online Media Awards. Brockwell also won a Woman of the Year award for her work on the site. In 2016 she went fully freelance and was named one of the 100 Coolest People in UK tech.
While Gadgette brings in some money, the majority of Brockwell's income comes from her freelance writing. "I do ongoing news shifts on Engadget and Gizmodo UK which give me a fixed amount of money each month. I have a page devoted to tech in the Evening Standard every two weeks so that's something else I can rely on. I also do reviews and articles for various other sites." Having carved out such a successful niche for herself, Brockwell now finds that she rarely has to pitch for work. "I feel a bit bad saying that knowing how many other freelance journalists struggle, but I only ever pitch if there's something I really want to write and no-one has asked me to do it. I don't know if it's because of my niche or because I've been doing it for a while or because I tweet too much (@holly), but if anything I've probably got too much on at the moment."
I think it's always good to have a database of your work to demonstrate your writing skills.
Brockwell's rich seam of work is also the result of having excellent contacts in her field, along with a reputation both for reliability and for always having an interesting take on technology. "Tech journalism is quite a small field so if you go to lots of events as I did in my first couple of years, you end up knowing pretty much everyone. Having defined opinions and not being afraid to be opinionated has also been key for me, because I think that's missing from a lot of the commentary on developments in tech. There's no shortage of things to write about, including the many incredible women in the field who don't get enough coverage.
Not surprisingly, given her willingness to have opinions and use them, Brockwell has made numerous TV appearances and is also a sought-after public speaker – next month she is off to Cannes to host a game-show-type event. Is she ever asked to appear at such events for free? "All the time! Often it's by people who are charging a lot of money for the tickets. It's really cheeky. I had a guy say to me once that he didn't have any money for speaking fees because he'd spent so much money on a cool venue. Am I supposed to go: oh okay then?! I get quite shirty responses sometimes when I explain that I'm a freelancer and I can't be taking days off to do unpaid stuff. And they'll say: 'Well, x person, or y person is doing it', and my response is: 'Those people are millionaires!'. Literally millionaires, quite often!".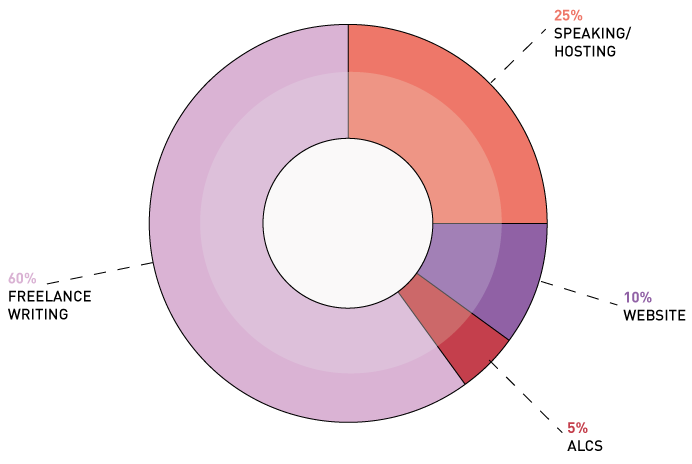 Brockwell also counts as income the free items she receives when she calls in products for review. "That helps me save on costs particularly because being such a nerd, I would end up buying all this tech anyway. I'm more than happy to do an unpaid review if it means I get to keep the product – I haven't had to buy a new phone for about four years."
What advice would she give anyone seeking to break into tech journalism? "I think it's always good to have a database of your work to demonstrate your writing skills. It's something people often fall down on. Many of those who approach me about writing for my site don't have any past work to show me, and I don't really know why because there are so many ways now to write something. You won't necessarily get paid but you can publish on medium.com or you can write for other people's blogs: everybody takes guest posts. There's no excuse if you're approaching somebody about a commission to not have at least three pieces that will show you've written before and that you've got a style and a voice." For those concerned about doing such work unpaid, Brockwell suggests setting up your own website as she did, and blogging for that. "At least that way you can potentially make a few quid from ads and get other things out of it, like better SEOs (Search Engine Optimisation) or backlinks to your site from more established sites."
Brockwell is a big fan of ALCS and is always recommending it to other writers. However, she admits that this is also the one place where she is lags a little behind the curve. "My ALCS payments are quite a small percentage of my income, but only because I'm lazy and tend not to get around to registering all my articles. But it's definitely on my To Do list!"
---
Holly is a freelance journalist based in East London, where she writes surrounded by her adopted menagerie of 14 birds and 3 cats. She tweets (too much) as @holly.
Interview by Caroline Sanderson
---
In our March 2019 distribution, we paid out almost £3 million for magazine and journal contributions. If you know someone who writes for magazines, make sure you encourage them to sign up to ALCS to ensure they receive secondary royalties for their work.